Atlanta Accessible Bathtub Installation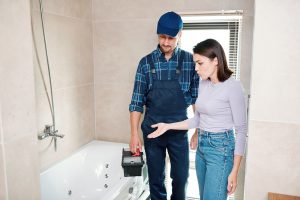 Homes for health-compromised individuals are becoming a huge innovation that is dedicated to assisting individuals with distinct mobility issues and other health conditions that limits them from doing what a usual person does, including being able to shower by themselves.
At Bathroom Renovation, we give high importance to the desire of individuals with compromised health conditions to still be able to shower on their own. At the same time, the demand to have a relaxing shower every time they desire to is critical to keeping them calm and satisfied with every shower.
Our company adheres to the fact that your concerns are real for the safety of those for whom the showers are to be installed. Among the best choices that most of our clients pick are accessible bathtub installation projects. Not only does it allow an individual to take a shower for hygienic purposes, but it also provides distinct possibilities of improving relaxation options.
Most accessible bathtubs include water functions that serve as soft massage mechanisms that ease out tight muscles and generally relax an individual, especially with mobility issues. Accessible bathtubs are also called walk-in bathtubs. Accessible bathtub installation projects are supposed to be taken seriously, especially that they are to serve the needs of those who have compromised health conditions and mobility situations.
Call Bathroom Renovation at (678) 661-6754 for your bathtub installation needs.
What should you know about accessible bathtub installation projects in Atlanta, GA?
Bathroom Renovation provides a definite description of what these types of bathtubs are, who are they for, and how they help out individuals with compromised health conditions to gain better hygiene and relaxation as needed.
If you happen to have a family member who has suddenly become immobile, you might consider the need to install an accessible shower setup at home. The good thing is, anyone, including children, can use this type of bathtub. The safety and comfort it offers would certainly satisfy someone who needs to clean up and relax at the same time.
However, before any accessible bathtub is installed, certain health requirements must be met. It is important to check with the local health and plumbing systems to note what needs to be done to complete such a project. This is why you might need to get assistance from professional contractors to install accessible showers in your bathroom.
The capacity to identify with the specific demands and requirements of the local government is only one part of the project that might require the assistance of professionals. The other factors that require distinct assistance from professional contractors are the technical requirements that must be given attention to as the projects are completed.
Plumbing Skills
It must be remembered that in any type of shower and bath installation or remodeling, plumbing skills are critical to the process. It could be understood that somehow, there are instances when some online videos and self-help instructions through YouTube could make you assume that you can do the job on your own. The truth is, the process is not that easy.
Plumbing procedures call for very specific practices that can only be applied by experienced contractors in the field. Along the way, there might be some problems that would arise that an amateur might not be able to resolve immediately. On the other hand, if a professional is handling the project, such problems could be solved accordingly within a short period.
Electronic Skills
There are certain operations and automated functions of an accessible bathtub that requires to be installed and checked by an electrician. If a person is not that properly trained to handle the task, the issues may result in critical dangers not only to the one who's installing but also to the one who is using the bathtub.
Carpentry and Construction
Setting the bathtub within its targeted area is a critical part of the project.
While videos online may show it to be as easy as pie, everything should be properly placed where they ought to be installed. Finding a company with teams of contractors who are trained to complete accessible bathtub installation projects is essential if you want to make sure that the ones who are going to use the bathtub will get the safety and relaxation that they deserve and as expected from the setup.
With the many companies offering accessible bathtub installation contracting projects in Atlanta, GA, you might need to fish through a huge pool of choices.
Nonetheless, in the process of doing so, it is important to consider these three things:
Experience
Companies with enough experience prove that they have met with several clients and have faced several problems along the way. This assures clients that if such problems arise, their contractors know exactly what to do. This lessens the time and money needed to resolve the issues accordingly.
Background
The reputation and name of a contracting company say a lot about how seriously they take their projects. This shall give you an idea of how the company would handle the project you have at hand.
Trustworthiness
Client reviews prove the level of trustworthiness that companies could be known for. As for Bathroom Renovation, such reviews could be accessed through browsing our website.
Skills and Practice
Repetitive training and consistent evaluation of workers' skills are critical to the service provided by Bathroom Renovation contracting teams. When facing the need to complete an accessible bathtub installation project, you need to make sure that the team members of the contractors who will handle your project are well trained to handle the pressure accordingly.
We Would Like to Give You Free Consultation
Given all these, we at Bathroom Renovation want to provide you free consultation sessions to answer your questions and even give you quotes on the overall amount of budget that your project might require. If you want, you can call us or send us an email.
Don't hesitate to ask any questions you may have in mind. Installing accessible bathtubs at home is a serious project to take, and we are more than willing to help you out. We hope to hear from you soon.
Call Bathroom Renovation at (678) 661-6754 now to get a free consultation with one of our Accessible Bathtub Installation Experts!