Hiram Accessible Shower Installation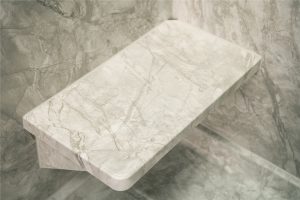 If you are searching for proper ways to install accessible showers, then perhaps you have very specific concerns about this matter. Our company in Hiram provides useful information about this matter that might help you in making your decision and maybe even planning the installation project itself.
We at Bathroom Renovation will take your accessible shower installation project seriously. We know that your concerns are serious, and the people who are going to use the shower have particular expectations of its functionality.
Call Bathroom Renovation at (678) 661-6754 for your shower installation needs.
In our experience, here are some of the most important features of accessible showers;
Wide Shower Entrance
It must be noted that accessible shower setups are specifically designed for individuals with disabilities. Hence, for the entrance, it is important to make sure that the individual or individuals who are to use it would easily be able to get into the shower without any complexities of transfer and that it would allow them to enter the shower without assistance.
A choice between curtains or glass entrance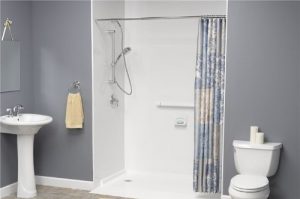 To improve the ease of entrance and exit from the shower, many clients choose to install shower curtains instead of show glasses. However, there are still some clients who want glasses to be installed instead for the sake of design and improved ambiance.
Nonetheless, we make sure that our clients are guided accordingly on how they are to use this setup with the security and protection of the individuals who are going to use the shower.
Zero threshold entrance
It is essential that the individuals using the shower shouldn't have to make unnecessary steps just to get into the shower. This is why we at Bathroom Renovation make sure that the accessible showers we install are designed with zero threshold entrance.
Adjustable Shower Seat
For low-budget projects, clients often just ask for wooden or metal benches to be added to the setup. But you should know that there are dangers to these removable benches. We found it necessary to install the benches and keep them securely installed at the side of the wall, right at the entrance, which makes it easier for individuals who use wheelchairs to get into the shower.
For better safety, there exist adjustable seats that are installed with very specifically-designed automatic mechanisms. Other installations fit well with a pop-up bench, especially for families that may be using the same shower for everyone living in the house. Even though this is defined with a pop-up mechanism, it should be installed with safety being the priority of the contractors.
Handheld Shower Head
To aid the mobility and better function of the shower that fits with the condition of the individuals showering in the area, it is essential to install handheld showerheads instead of stationary showerheads.
Shower Control Panel
It is important to note that the individuals showering in the area would be able to reach the control panel, especially among individuals who are in wheelchairs or those who are immobile and would only be able to reach the panel at a certain height.
Easy to Reach Storage
Everything in an accessible shower should be within reach, including storage cabinets where towels are often placed. Soap discs, shampoo container holders, and all other materials used for bathing should be placed in safe and reachable storage racks.
Anti-Scalding Device
If the shower has cold and hot options, then it is important to install the anti-scalding device. This is a regulating device that is added in accessible showers to avoid sudden adjustments in the water temperature depending on the overall behavior of the water release in the whole house.
Non-Slippery Shower Flooring
Accessible shower installation projects are expected to be focused on safety. Hence, slippery or glossy flooring is completely discouraged in this setup. It is advised that matte or textured finish be chosen as a specific flooring choice for these types of shower setups. Regular maintenance is critical when it comes to keeping the safety and integrity of these types of flooring.
Adjustable Lighting
Glares and very strong lighting may cause discomfort to some individuals. To keep comfort high in these shower setups, it is highly suggested that adjustable lighting be installed as well.
Mirrors
If mirrors are to be installed, it is best to put it outside of the shower where it can avoid catching up moist. Controlling the temperature is needed to keep the whole bathroom safe for the individual to maneuver safely within the room, especially after taking a bath when moist is usually present within the surroundings.
Heat Lamps
To further provide a temperature control mechanism, some clients also want heat lamps to be installed within the bathroom, making it easier for the individual who comes out from the shower to transition gradually to room temperature.
Considering all these features and these necessary installations, it is clear that professional contractors should handle accessible shower installations. There are very specific skills that individuals managing the installation project should have.
We are Open for Free Consultation

Your decision to consider an accessible shower installation project is a serious one. From the basic features to certain technical considerations, it is crucial to make sure that professionals be involved in the process. The safety and comfort of the individuals who are going to shower in these areas are of the utmost priorities of those who are to install this project.
We at Bathroom Renovation in Hiram, GA make sure that the demands of all our clients are properly met. Not only do we listen to their requests, but we also offer them certain options that they may not be aware of, to make the shower work for their general needs, especially if the accessible showers are to be installed in homes were individuals with different mobility and health conditions are residing.
If you have questions on this project, please do not hesitate to call or email us. We would be more than glad to offer you the help that you need. We hope to hear from you soon.
Call Bathroom Renovation at (678) 661-6754 now to get a free consultation with one of our Accessible Shower Installation Experts!