Tucker Bathtub Replacement
Want an attractive, affordable, and low-hassle solution for bathtub replacement? Bathroom Renovation is your Tucker bathtub replacement company, providing low-hassle, fast, and low-cost replacement tubs.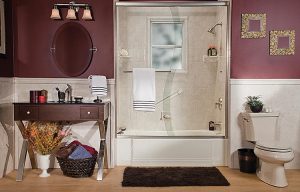 Traditional bathroom remodeling is expensive, time-consuming, messy, and did we mention expensive? You could be out of your bathroom for weeks or more, with all of those man-hours adding up to a high remodel cost.
With Bathroom Renovation, you get a replacement bathtub in as little as one-day, and at a fraction of the cost of a standard tub replacement. Our solutions are durable, innovative, and attractive, with many different options for personalization, customization, and accessibility, so your tub will perfectly suit your functional and aesthetic needs.
Call Bathroom Renovation at (678) 661-6754 for a Free Consultation!
Fast & Attractive Replacement Tub
Getting the replacement tub of your dreams is faster, easier, and less expensive than you would have ever imagined when you work with Bathroom Renovation!
We replace your tub in as little as a single day, leaving you with a durable and low-maintenance surface that is both attractive and functional. Since our tubs are fitted directly over your existing tub, there is little to no need for demolition or the mess that it creates. This reduces clean-up time as well. We work quickly and efficiently to get your space back to usable and completely updated as soon as possible.
Our replacement bathtubs are long-lasting and durable as well as attractive. They are resistant to mold, mildew, chipping, cracking, and fading. This means that your new tub looks new longer, and with less maintenance required, than with a standard bathtub.
New Bathtub Options & Features
With unlimited options for customization and personalization, we can truly install the new bathtub of your dreams quickly and affordably.
We provide many different styles, colors, and pattern options for your tub liner and surround. This allows you to perfectly suit your replacement tub to your existing space, needs, desires, and your interior design choices. Constructed of solid, durable acrylic, our new tubs are both attractive and low-maintenance, making it easier for you to enjoy your new space, hassle-free.
We also provide a wide assortment of accessibility features and options. We can design your new tub to include easy to reach grab bars and shelves, step-thru and walk-in tubs, as well as jetted tubs to assist with physical therapy or relaxation. We make sure that your space is effective and functional, as well as comfortable, for all members of the family.
We can convert your current shower into a new bathtub, in the same space, with minimal demolition and as quickly as our other bath remodeling projects. Whatever your needs for Tucker bathtub replacement, Bathroom Renovation provides innovative, affordable, and fast solutions.
Let's Talk Now- Free Consultation

Your Tucker, GA bathtub replacement company, we deliver attractive, affordable, and fast tub replacement services, designed with your space, your needs, and your budget in mind.
If you like to replace a worn or outdated bathtub, convert your shower to a tub, or want to improve the ease of use for those with limited mobility in your home, our bathtub replacement experts are ready to deliver high-quality, attractive, and affordable solutions.
Call Bathroom Renovation today at (678) 661-6754 for your Free Consultation!