Tucker Bathtub Replacement
Want an attractive, affordable, and low-hassle solution for bathtub replacement? Atlanta Bath Remodel Company is your Tucker bathtub replacement company, providing high quality replacement tubs.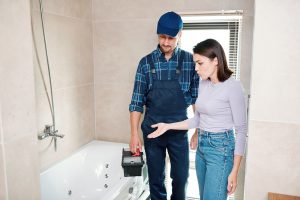 With Atlanta Bath Remodel Company, our bathroom remodeling experts will remove your existing tub and precisely install your new bathtub handling any needed plumbing, framing, tiling or repainting you need.
Our bathtub replacement solutions are durable, innovative, and attractive, with many different options for personalization, customization, and accessibility, so your tub will perfectly suit your functional and aesthetic needs.
Call Atlanta Bath Remodel Company at (678) 661-6754 for a Free Consultation!
Efficient & Attractive Replacement Tub
Getting the replacement tub of your dreams is easier than you would have ever imagined when you work with Atlanta Bath Remodel Company!
We handle all the planning and work of replacing your bathtub and any other bathroom renovations you might way, leaving you with a durable, attractive and functional new tub. We plan thoroughly and work efficiently to get your space back to usable and completely updated as soon as possible.
Get the great looks and improved funtionality of lost-lasting, well made replacement bathtub installed by the experts at Atlanta Bath Remodel Company.
New Bathtub Options & Features
With unlimited options for customization and personalization, we can truly install the new bathtub of your dreams quickly and affordably.
We provide many different styles, colors, and pattern options for your tub and its surround. This allows you to perfectly suit your replacement tub to your existing space, needs, desires, and your interior design choices.
We also provide a wide assortment of accessibility features and options. We can install step-thru and walk-in tubs, as well as jetted tubs to assist with physical therapy or relaxation. We can add corner shelves, soap niches, grab bars, towel bars, and tub decks for the built-in look.
We make sure that your space is effective and functional, as well as comfortable, for all members of the family. Whatever your needs for Tucker bathtub replacement, Atlanta Bath Remodel Company provides innovative and reasonably-priced solutions.
Let's Talk Now- Free Consultation
Your Tucker, GA bathtub replacement company, we deliver attractive and efficient tub replacement services, designed with your space, your needs, and your budget in mind.
If you like to replace a worn or outdated bathtub, convert your shower to a tub, or want to improve the ease of use for those with limited mobility in your home, our bathtub replacement experts are ready to deliver high-quality, attractive, and affordable solutions.
Call Atlanta Bath Remodel Company today at (678) 661-6754 for your Free Consultation!