Atlanta Bathtub Remodel
Is your bathtub outdated, unattractive, hard to clean, or no longer meeting your needs? Our Atlanta bathtub remodel company, Custom Tile of Atlanta, provides attractive, high-quality, and affordable new tub remodels that save you time, hassle, and money!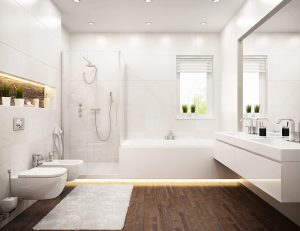 Whether you are looking to convert your shower to a tub, update your existing tub, or add accessibility features to support those with reduced mobility, we have the bathtub remodeling solutions you need. We create stylish, sophisticated, and functional bathrooms with endless possibilities and customization options.
Traditional bathtub renovation and remodeling can be incredibly time-consuming. Juggling contractors can be a huge hassle. Not with us! Custom Tile of Atlanta is a turn key contractor who will handle all your renovations with just one project manager. We have framers, plumbers, electricians, painters, and cabinet makers—all you have to do is tell us what you want.
Call Custom Tile of Atlanta at (678) 661-6754 for a Free Consultation!
New Bathtub Installation
Is your existing tub damaged, outdated, or no longer meeting the needs of your family? Get a new bathtub installed directly in your existing space without having to think twice about the hassle.
Getting a new bathtub installed doesn't have to be a huge effort or worry for you. We take the stress out of the experience by installing your choice of tubs with expertise and efficiency. Update and beautify your bathroom with our expert designers and installers.
We would love the opportunity to discuss your new bathtub needs and how we can provide an attractive, durable, and functional space that works for you.
Tub Wall Surrounds
We replace more than just your tub itself. We offer expert traditional tiling for floors, tub and shower surrounds, and other bathroom features.
Your desires for your tub area are easily achieved with our expert technicians. We can tile walls, and even ceilings, for tub surrounds, and can tile wainscoting on walls near a stand-alone tub. We can build in soap niches and install corner shelves, grab bars, towel bars, and tub decks for the built-in look.
We'll handle all the necessary demolition and clean up as we go so you won't have to worry about any hassles or mess.
Bath Conversions & Accessibility Features
There is a lot more we have to offer than bathtub replacement services. We can also convert your existing shower to a bath, convert your bath to a shower, or create an accessible and functional bath area.
Bath to shower or shower to bath conversions are fast, simple, and done in your existing space. Whether you are tired of your shower and long for a soaking tub, or are no longer able to step into the tub and would like a low-barrier or no-barrier shower, we have the right solution for you. Our innovative products are built to last and can be fitted with the accessories you desire to create the bath experience of your dreams.
We provide many options for creating accessible bathing for those with limited mobility. We can provide walk-in and step-thru tubs, barrier-free showers, grab bars, and even install seating, benches, and shelving at appropriate places and heights to suit your needs. We have options for massage-style jetted tubs to assist with physical therapy and relaxation, as well.
All of these options mean that we have the right bath for every individual or lifestyle.
Let's Talk Now- Free Consultation
Your Atlanta, GA bath remodel experts, we provide attractive, on time and on budget bathtub remodeling services, designed with you, your space, and your needs in mind.
Whether you simply would like to update a worn tub, convert your shower to a tub, or would like to add new accessibility to better support those in your home, such as grab bars, seats, or walk-in style tubs, our experts have innovative and creative solutions to meet the needs of your family.
Call Custom Tile of Atlanta today at (678) 661-6754 for your Free Consultation!