Lithonia Bath To Shower Conversion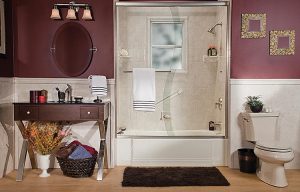 Bathing is perhaps one of the most relaxing activities that you do in the early morning or at the end of the day. No matter what time you take your bath, everyone wants this daily experience to be refreshing. Part of making this daily activity refreshing is the type of setup that you have in your bathroom.
There are instances when some homes have originally installed bathtubs for their bathrooms, but for some reason now requires a change of taste in such setup. Converting bathtubs into showers is somewhat viewed by some homeowners to be more practical for their busy lifestyle or perhaps more suitable for the space of the bathroom.
We at Bathroom Renovation consider this conversion job to be an important part of every home's ambiance and every homeowner's comfort. Our portfolio and list of satisfied clients will prove that in Lithonia, Bathroom Renovation offers one of the best bath to shower conversion projects.
Call Bathroom Renovation at (678) 661-6754 for your bath to shower conversion project needs!
For whatever reason a homeowner may have for converting a bathtub into a shower, certain considerations must be given full attention to. When finally deciding to change their bathroom setup, homeowners need to give attention to these following points:
Why is it Better to Use a Prefabricated Shower Kit?
Prefabricated shower kits are collected shower materials that respond to specific themes or decorative patterns. Usually, these kits are offered to clients who are handling new constructions. However, in instances when a conversion is being considered, prefabricated shower kits must fit the existing decoration in the bathroom.
It is also essential that the materials included in the set can fit into the specific measurements of the room as part of the conversion. Prefabricated shower kits could be preordered and often includes a shower pan or the actual floor for the shower setup, the integral walls, and the door. If you have specific measurements that require to be recognized when measuring the parts of the shower set, then it is best to have the whole set customized.
Many homeowners choose this option as a DIY project. However, when their bathrooms have specific measurements or features that do not fit well with the prefabricated shower set, then critical problems arise. Therefore, even when installing prefabricated shower kits, getting the opinion and assistance of professional bath to shower conversion contractors have been found useful by many homeowners.
Why is Measuring the Floor Are Necessary?
Not all bathroom floors are uniform. More often than not, some properties have precise floor measurements dedicated to their bathtubs. This consideration is even identified to be affected by the type of bathtub that has been primarily placed in the bathroom. When such problems arise, fitting a new shower into the bathroom may not be as easy as expected.
Why is There a Need for Professional Help?
As discussed in the first two questions, problems often arise when individuals decide to make the bath to shower conversion on their own. When such problems arise without the help of a professional contractor, the owners end up losing time and money just to resolve the issues. Hiring a professional contractor for such conversion projects will make it easier for homeowners to be given the options they can choose from and understand what goes into the project, as well as how problems could be resolved more efficiently.
Several Steps to Consider when Converting Bath to Shower
Deciding on the Shower Footprint
The shower footprint determines the actual width and space that the entire shower area will take from the whole floor space of the room. Some homes offer a single room for a shower. Other homes decide to put shower rooms in the same room where the toilet is located. Depending on the space dedicated to the shower room, the decision to repair the flooring shall be planned.
Deciding on the Shower Design
What would be the design of the shower area? Would it have surrounding opaque or transparent glass? Would it be free of walls and just be divided by a shower curtain? Would the shower setup include a hot and cold choice?
These questions ought to be considered during the planning stage to provide the owner with an understanding of what option would best fit their current demands, situation, and the budget they have dedicated to the said project.
Securing Permits
When undergoing a bath to shower conversion, homeowners are often required to secure a permit from the city water management office. The project requires tapping on the water source that the house or the property is connected to, and it could create disturbances to the whole community's water system.
Professional contractors are more than capable of handling these types of technicalities of the project; what might take weeks for homeowners could be accomplished by professional contractors in just one day.
We Are Open to Providing Free Consultation

We here at Bathroom Renovation in Lithonia, GA recognize the need to provide homeowners and property owners a sense of security when it comes to putting their money into good use. While some promote DIY bath to shower conversion projects, there are risks to this option. This is why professional contractors here at Bathroom Renovation in Lithonia are more than ready to provide the necessary assistance you need to make good and informed decisions for your project. We understand that there are technical skills required for those who would want to handle this project, and we are more than ready to provide the services that you need.
If you want to discuss your budget or some other specific factors of your bath to shower conversion, then please feel free to contact us. Please do not hesitate to throw us even questions that you might consider unnecessary to ask.
Many of our clients gained benefits from asking every question they have before they proceeded with the project. Sometimes, the most unthinkable question you have in mind could present the most valuable information that you need to tackle with professional contractors. We hope to hear from you soon.
Call Bathroom Renovation at (678) 661-6754 now to get a free consultation with one of our Bath to Shower Conversion Experts!